Published April 30, 2018
Was Anyone else out there a fan of Xmarks? It is was a wonderfully simple tool that allowed you to keep your bookmarks in sync between browsers and devices. And the best part – it was free to use!
Lo and behold, March 30th 2018 they drop this bombshell:
Xmarks update

On May 1, 2018, we will be shutting down Xmarks. Your account will remain active until then, including the syncing of your bookmarks. After that date, your bookmarks should remain in any previously accessed browser, but they will no longer sync and your account will be deactivated.
Such a shame.
As a long time user of Xmarks I scrambled to find a suitable replacement to no avail, so I made one myself!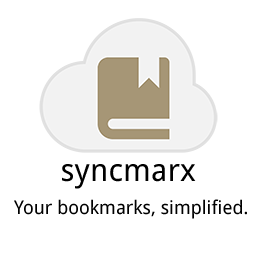 Download Alpha for Firefox:
Download Alpha for Google Chrome:
(Funnily enough "syncmarks" was taken, Although I think the 'X' is a nice homage to Xmarks)
Syncmarx leverages existing cloud file hosting services to make this entire process "free" (currently limited to Dropbox). You authenticate with the cloud file host, and your bookmark data is saved to a file. As bookmarks are created and deleted, your bookmark tree is compared against the most recently uploaded file on a schedule that you specify. Finally, sync timestamps are compared to see if the data should be merged or overwritten.
So my fellow ex-Xmarks users please give it a try! I can certainly use some testers, since I had to push this out quickly before Xmarks kicked the bucket. Hopefully this fits the use case for some of you like me who are looking for a simple bookmark solution (primarily just keeping Chrome and Firefox bookmarks in sync automatically). Also note that this add-on is built using the Web Extension API, so as more browsers become compliant it may be possible to expand further.
Unfortunately this API does not support things like tags, keywords, and descriptions, etc. Personally I don't use those anyway, but I do hope it fills in the gaps for those seeking simplicity!
Further ramblings-
Perhaps Xmarks was doomed after having been purchased by LastPass in 2010, who knows. These days if a software product doesn't generate revenue its days are pretty much numbered.
In any case I loved Xmarks, and with only a month to find an alternative I struggled to find a replacement with the following criteria:
Free to use
Unlimited bookmark storage
Runs automatically
Uses native browser bookmarks
Support for Firefox and Chrome
No I do not want to use a special interface for my bookmarks. No I do not want a suite of other tools. I just want to see the same bookmarks menu and toolbar in Google Chrome as I do in Firefox.
So I made my own extension. I created syncmarx to do the bare minimum I need it to do, and that's to provide automatic native bookmark synchronization for free between Firefox and Chrome.
Syncmarx is just in alpha now, so I could certainly use some testers to help me give it a whirl! If people like it enough perhaps I'll eventually make a mobile app for viewing bookmarks on the go 🙂
Learn more by checking out the syncmarx homepage below:
https://syncmarx.gregmcleod.com/