Published December 22, 2020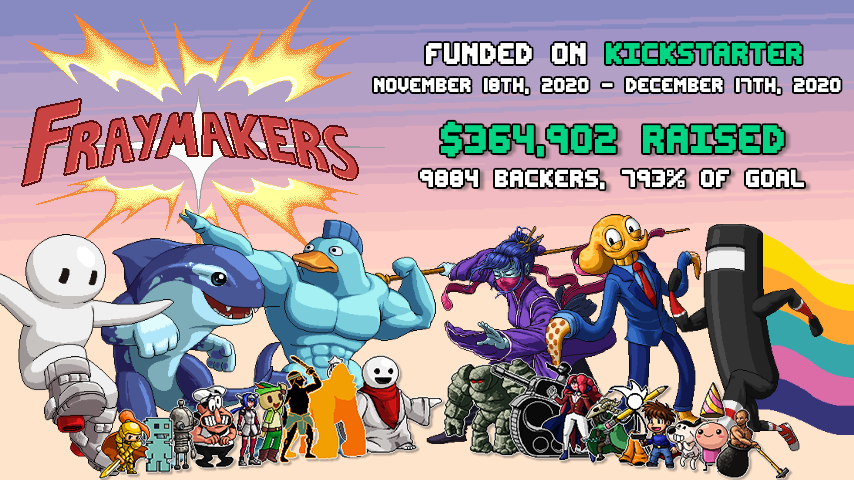 WE DID IT! After 29 days and nearly $365,000 later Fraymakers has been fully funded on Kickstarter almost eight times above our original goal! 🎉🎉🎉
No one on my team expected things to blow up as much as they did. It all started with us hitting our initial funding goal of $46,000 within the first 3 hours thanks to the overwhelming support from the existing McLeodGaming community. After that, things started to level off to a slower but consistent pace as you'd normally expect in a crowdfunding campaign. Everything changed once Smash YouTuber Alpharad did a video endorsing the game after we partnered with him to be a stretch goal on the project as part of an in-game announcer pack featuring him and voice actor Josh Tomar:
After the video was released we blew through several stretch goals in a matter of days, including Super Attacks, two additional playable characters, and a port for Nintendo Switch. This momentum continued to carry us through the end of the project as news spread far and wide about Fraymakers (you can see get a clear visual of the effect on Kicktraq).
If anything was made clear after this Kickstarter, it's that fans of this genre are looking for something to be the definitive indie-crossover platform fighting game, and Fraymakers is positioned to deliver on that with its custom content capabilities as icing on the cake. Now that we're funded I'm looking forward to getting to spend full-time next year working on what I consider my dream project, and being able to preserve all of the platform-fighting knowledge I've built up over the years.
A quick special thanks to everyone involved on the project, most importantly Team Fray (my core team), and all of the additional artists who contributed work towards the Kickstarter. Also a big shout out to the Super Soul Bros. for the awesome original theme which you can hear in the trailer (and you can preview their OST for the game here). You can read a full list of credits here.
For more info on the game check out our Kickstarter page, and you can also view the Kickstarter trailer on YouTube below:
As for now, I think it's time for a short break (running a Kickstarter is exhausting!). Hope everyone out there has a happy holidays and a happy new year!